We're happy to introduce one of most requested features - a complete white label solution for agencies and resellers.
White label made easy
Look & Feel
Use your brand colors, company name and logo for the dashboard.

Vanilla URL
Clients can login from a non-branded, vanilla url: https://app.thereviewsplace.com

White labeled Wordpress plugin
Use a non-public, brand free Wordpress plugin for easy installation of review widgets for your clients.
Download it here.
Sub accounts
A sub account is a standalone, clean account that can be used for a business entity or client.
Manage all accounts from one place
Add, remove and update sub accounts. Each sub account is completely standalone with its own channels and review widgets.

Easily switch between accounts
Switch using a simple dropdown, control all your accounts with ease.

Unique collect link
Collect reviews for your clients using a customized, unique link. Match with their brand colors and logo.
User permissions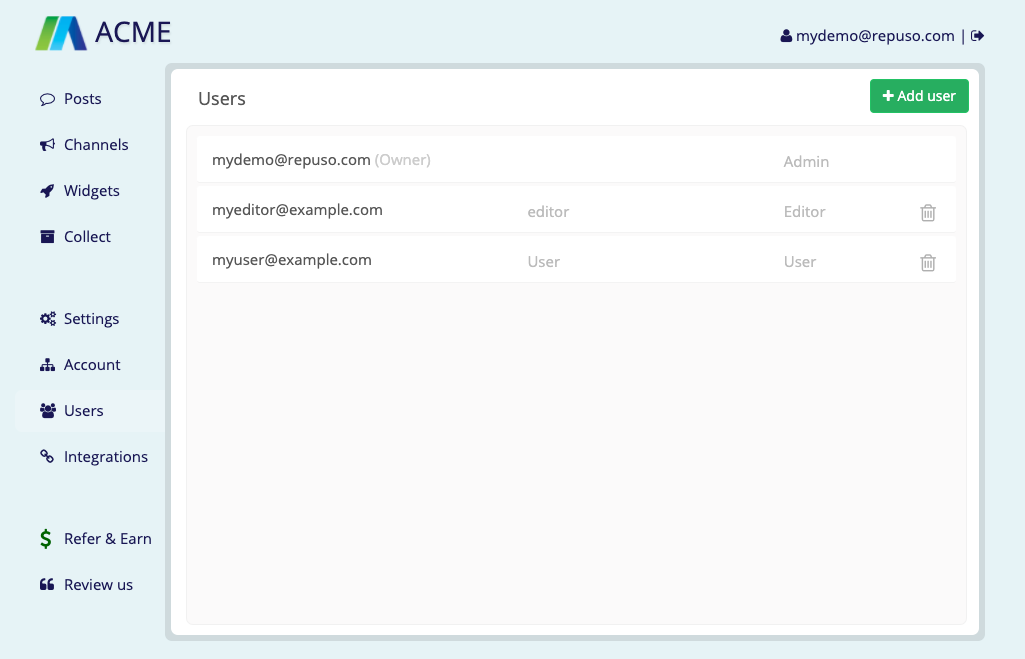 Assign users to accounts according to your and their needs. Supported permissions include:
Admin
Has access to all features and all accounts, onboarding tutorial and live chat with Repuso team.

Editor
Has access to posts, channels, widgets & collect sections, for assigned sub accounts:

User
Limited to posts section only, for assigned sub accounts: