Get your pages stand out on Google search results!
We're happy to introduce an important feature - rich search results!
How does it work?
When you install Repuso's widget on your website, we also add a rich snippet to your page along with the widget, according to Google's requirements, to represent your total rating.
Google will index it the next time it crawls your website and should display your pages (or some of them) along with your star rating on search results.
What do I need to do to make it work?
Nothing. It's automatic. If you're on a paid plan, it's already active for you.
To enable (or disable) the rich snippet for a widget, go to your widget's "Layout" tab and change its status:



Also, make sure that your company name and website are accurate under "Account" section. If you've setup sub accounts (websites), make sure that every website's name and url are accurate.
What kind of star rating will show on my results?
We add to the snippet only the reviews your approve. That means that as long as you approve good rating posts, you're good.
The approved posts that don't have star rating at all - we consider them as 5 star rating.
How long does it take?
It may take time for Google to pick up your rich snippet, so be patient. It can take a few days or a few weeks.
It'll most likely be picked up, but it's not something we can guarantee since Google has the final verdict what to do with the rich snippet.
What can I expect from my rich snippet?
Your pages will stand out on Google search and may appear higher in the search results. That will probably result in more clicks and hopefully more sales to your business!
Here's an example of how the search results look like for a client: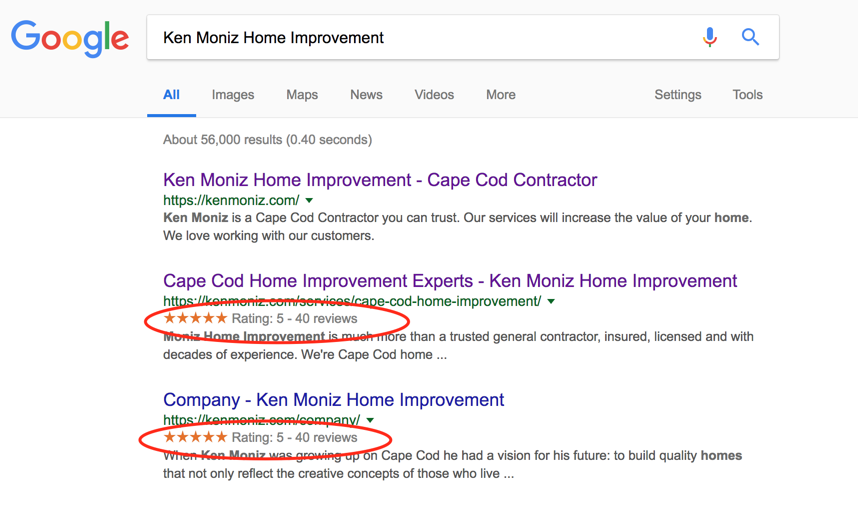 If you have any feedback or other comments, please let us know sending us an email!